Acclaim for Siggi B. Wilzig and UNSTOPPABLE
This book details the incredible story of Siggi Wilzig, a man who defied the odds and survived the hell of Nazi death camps and built a legacy in America. It teaches us hope and provides inspiration in times of trouble.
Siggi was someone who would look at the Himalayan mountains and say, 'I can climb that.'
Siggi understood a truth that often escapes experts in the world of finance: human nature is the greatest determinant of market trends. For someone with so little education, and no formal business background, his achievements after liberation are as breathtaking as his survival itself. A fascinating read, deeply moving and illuminating.
This book is a wake-up call to the threat of Holocaust denial and a gripping, powerful account of one of the most successful entrepreneurs and philanthropists in America—an extraordinary life.
Unquestionably the most articulate and dynamic survivor I've ever met.
He taught all of us that you don't have to be a victim of circumstances. May we one day inhabit a world where more people live by his example.
A man of courage and faith.
Just when we most need it, Unstoppable arrives to remind us of the resilient human spirit and its capacity to overcome the most daunting foes—a remarkable narrative, from a chapter of human history that never stops grabbing us by the throat. A timely and gripping tale for us all.
A tower of strength, a strong warrior who believed in helping people. Humanity needs men like Siggi B. Wilzig in order to stay human.
Siggi had the heart of a boxing champion. He took on all comers, dodged lethal blows, came back again and again, and refused to quit. You've got to read this story. It's a knockout.
Unstoppable grippingly dives into the world of an Auschwitz survivor who had the strength and character to survive Auschwitz and the chutzpah to take on Texas oilmen and Wall Street bankers. Joshua Greene gives us a phenomenal read.

Given his lack of any formal education, Siggi's business acumen was incredible, and his life was a testament to human endurance—heroic and unparalleled.
Hard work, intuition, and faith helped guide Siggi through the horrors of Auschwitz to the upper echelons of the business world. Though he never escaped the trauma of his memories, his experiences will now educate and inspire others.
A story of struggle and triumph … his legacy will be forever remembered.
A powerful and moving narrative … Siggi was a towering Jew, a role model for the ages … a staggering success story and an amazing American.
Siggi's life story is a David and Goliath saga that reminds us what one individual can do—a unique, mesmerizing biography.
After his liberation from Nazi death camp Mauthausen, Siggi Wilzig worked for the US Army Counter Intelligence Corps and collected evidence, which I used to bring war criminals to justice. As a liberator of various concentration camps, and a US prosecutor at the Nuremberg Trials, I can confirm the authenticity of the horrors Siggi described. His survival and success after coming to America will be an inspiration to all readers.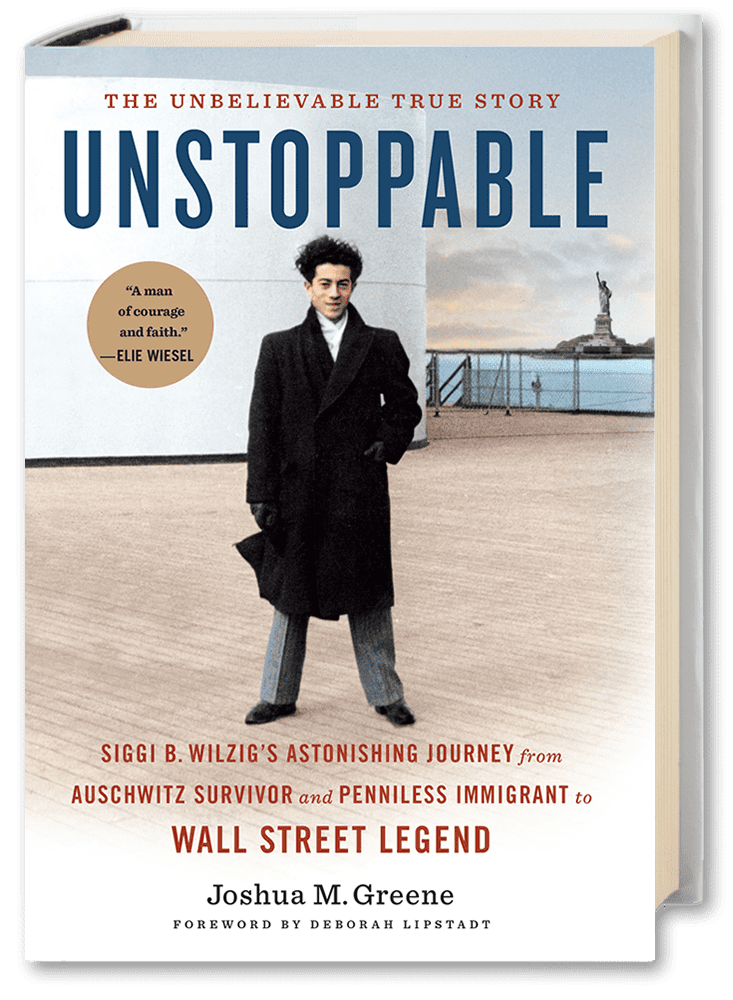 Experience Siggi's Unbelievable True Story
From Auschwitz Survivor and Penniless Immigrant to Wall Street Legend